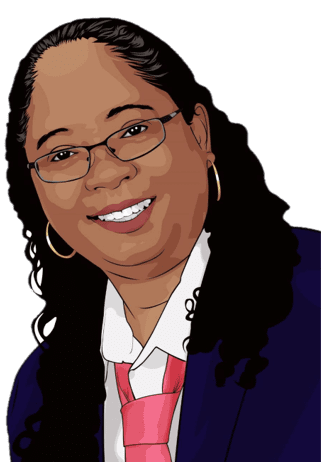 Who is K9 Connector?
Hi, my name is DeLisa Lee. I am the lead trainer of K9 Connector. I have lived with dogs for most of my life from a very young age. I trained all of our family pets and extended family pets. But when we opened our home to a rescue dog in 2016, it had been years since I trained a puppy from scratch. So I scoured the internet to find the latest best practices on effective and humane dog training. I bookmarked websites of really awesome professional dog trainers all over the world. I learned from trainers of service dogs, police dogs, show dogs, agility dogs, working dogs, hunting dogs, and of course, pet dogs. I studied their philosophies and techniques, took notes, and created lesson plans for training our new puppy Max. By the time Max was 10 months old, I had declined multiple requests to train other dogs. Finally, after Max's first birthday, I said yes and the rest is history. Since then, I've enjoy drawing on my 20 years as a corporate trainer and apply my skills to dog training.
Check out the FAQs below and if you'd like to discuss training for your dog, feel free to contact me.
Frequently Asked Questions
What is your approach to dog training?
I am a balanced dog trainer which means my approach to behavior modification includes reward based techniques and humane, aversive consequences to let the dog know that their decisions and behaviors will lead directly to pleasant or unpleasant results. I specialize in canine communication, and obedience and tricks training.
At the end of each training session, you will be given homework. Homework includes practicing what we covered in the lesson, video recording your progress, implementing feedback provided, and making adjustments and improvements accordingly.

Not.... because there is no stay!
Modern dog trainers have eliminated the STAY command. And I gotta say, removing STAY from your command list greatly increases the effectiveness of your communication with your dog.
How does it work? You teach your dog the concept sustainability. This means, instead of teaching your dog to stay, you teach him that every command is sustainable and is to be followed until the next command. Can you do this without using the word "stay"? Absolutely! Here's how I explained it to a prior-service client. "When you were in basic training and you were called to attention, how long did you stay in that position? How did you know when it was okay to move?" He said, "I stayed in that position until I was given another command."
A soldier learns to hold a command because he reads it in a book or hears it from his drill instructor. It's different with dogs because not only can they not read, but they don't understand English (so it doesn't matter what words you use). To teach this concept to a dog, you release by release him before he breaks the last command. It's that simple. Release your dog before he breaks the command and he will begin to wait to be released.
In the video below, I am not teaching Max to wait for the release. I made this video to show you how much more powerful and versatile the release command is compared to the STAY command.
GOOD + FREE - STAY = DURATION
Who is your ideal client?
My ideal client is someone who not only wants to see their dog's behavior change, but they want to be the primary facilitator of the change. If you're looking for a place where you can just drop off your dog and pick him up in two weeks (and he's all better), I might not be the right trainer for you. I enjoy working with people who want to learn about dog training methods such as luring, shaping, targeting, and capturing... and who want to understand how and when to use them.
Be advised, I am highly selective when it comes to choosing dog training clients. Likewise, you should be very selective in choosing a trainer. You'll interview me... I'll interview you... we'll have a great conversation! And by the end of it, we'll decide if we're a good fit for each other.
Feel free to submit the Contact Us form to get started.
Yes. My service area is Research Triangle Park in NC. If you are outside of my service area and you are willing to cover my travel expenses, I may be able to visit you. Or, we can conduct the training online.
How much do you charge for training?
My rate is $65 per hour for face-to-face or online sessions.
My rate is $50 per hour if you do your homework (create weekly progress videos).
How do you support your clients?
As a professional trainer, I am no stranger to online learning systems. I take full advantage of the internet to provide you with lesson plans, training videos, step-by-step directions, chat, video conferencing, feedback, and more!
What kind of treats do you use for training?
I don't think there is one best answer to this question. The food reward can be as unique as the dog. If you listen, your dog will tell you what he likes and what he values.
Most dogs are food motivated, but there are exceptions. Some dogs are more interested in toys than food. Assuming the dog is food motivated, chicken and hotdogs tend to go over well. Whatever you choose, make sure the reward is small, soft, and does not create crumbs when your dog is eating it.
With Max, I got lucky. After feeding him store bought treats for a few months, I discovered he will work for regular dog food. That's when I decided to overlap his meals with training. In Max's videos, he is usually eating dry dog food mixed with a little chicken or hotdogs. He rarely eats from a bowl. In fact, his first year, he ate all of his meals directly from my hand. When he got older and I added canned food to his diet, I taught him to eat from a tablespoon. (Canned food can be very sticky on one's fingers.) In Liberty's videos, the reward is her regular dog food as well, and the occasional high value chicken or hotdogs.
Eh... maybe. Under the right circumstances, I have agreed to work directly with a client's dog, but my preference is to train you and have you train your dog. I want to help you understand how dogs process information so you are empowered to modify your dog's behavior with or without me. If I can help you do that, you will then be in a position to teach your dog anything. And that's my goal.
Why does Max wear an e-collar?
Yes, in the picture above, Max is wearing an e-collar. The e-collar has always been a highly controversial training tool. A lot of people are understandably weary of e-collars because in the wrong hands, they can result in harm to a dog. And I agree. But honestly, can't the same be said about a rope or a leash?

First of all, I don't believe in cheap e-collars... the ones that can only be set to 0-10. You can't manage the stimulation in small increments if the dial only goes up to 10.
Max's e-collar cost approximately $250. He is an 80 lb boxer-lab and I bought the collar primarily for safety purposes. He wears it whenever we leave the house. When he sees me pick it up, he does his happy dance - just like when I pick up his leash.

I do not condone any form of psychological pressure, force or coercion in dog training. I believe that training should always be fun for you and your dog. If you do it right and use the right motivation, there is no need to force your dog to do anything.

I don't believe in using an e-collar to punish a dog. That's just lazy and cruel and will only result in damaging your relationship with your dog.

It is important that you do not try to use the e-collar to teach your dog new behaviors. When your dog feels the stimulation of the e-collar, he must know how to turn it off. This means he must be trained on the desired behavior separate from and without the e-collar.

If you are considering adding an e-collar to your training toolbox, get educated on it first. It's not the kind of thing you should figure out on your own (or from reading the package). There are so many great resources on the web concerning e-collars, there is no excuse for not making the right decision for you and your dog.